[2] Tarek Momen (EGY) 3-2 Abdulla Al Tamimi (QAT)   11-5, 10-12, 9-11, 11-9, 11-4 (76m)
Imagine the scene: Beautifully White outfits for the QSF Board Members, all come to support their Boy, kids from schools with Qatari flags, young players from Aspire, coaches, parents, Egyptians, a few English, Germans and other nationalities dispersed all around, a stunningly beautiful lady sitting just in front of me, with a Arabian perfume that makes me literally high… Incredible, absolutely incredible atmosphere.
And in comes Abood. Little Abood. Flashback to my first visit to Aspire, with Geoff Hunt. 14 years ago. Abdulla was so cute. And playing lovely squash already…. The crowd goes wild.
Cut back to today. Enters Tarek. Big Cheer from the Egyptian crowd. This is going to be epic I think. And it is…
First game, Abood very nervous and starts by serving out. Tarek, completely in control, only one error. Five for little Abood, back to his old habits I think. 11/5 in 8m.
The second is a completely different match. Abdulla is cutting off all of Tarek crosscourts, finding great short shots in both corners, Tarek is under tremendous pressure, 5/2, 8/6. The experience pays off, back level 8/8, 9/9 but the winners come from the Qatari's racquet and it's 12/10 for Abood in 12m.
Tarek is worried. Too close for comfort.
The third is sublime. Fast rallies, incredible squash, intense, both attacking and pushing the other to the other side, to the other corner, up and down, side to side, not for the fainted hearted. From 3/3, Tarek in charge, 7/4 but it's 5 incredible points in a row for the Qatari, 9/7. One of the guests in front of me is actually jumping out of his seat, Amir Wagih style!! It's "du jamais vu", never saw that before in Qatar. And if Tarek levels at 9M/9, it's still Abood, 11/9 in 14m.
Now, I can see Haitham Effat being very animated at the back, while coaching Tarek. Pretty unusual as he is normally so laid back. Worrying times for the Egyptian crowd.
Back on court, and it's even more worrying for the Tarek camp as he finds himself down 2/5, 3/6. Abood is just reading his opponent game so well, and moves on the ball before Tarek plays his shot! Tarek feels the danger, and experience plays its role. Taking his space to play his shot, going back to basics and pushing the ball at the back, making the court bigger and bigger.
As he tries to pick up the ball in the right back corner, Abood contracts a blood injury, we are at 7/7. A 10m or so stoppage. Tarek is now back completely calm and focused. And will take the crucial and indispensable 4th, 11/9 at his second attempt.
Abood is just flat when he comes back. He was running on adrenaline and the interruption in the 4th just cut his legs I feel. In the 5th, Tarek is as in control as he was in the first, and although Abood is giving it all, he's got not much to give poor mite, and ti's 4/1, 8/2 11/4…
Game over, Tarek is in the quarters of the worlds. But I feel Abdulla is going to thrive from this, and will soon, very soon threaten the top guys… And sooner than later. Blame Shorbagy, that's what I say (read Geoff's)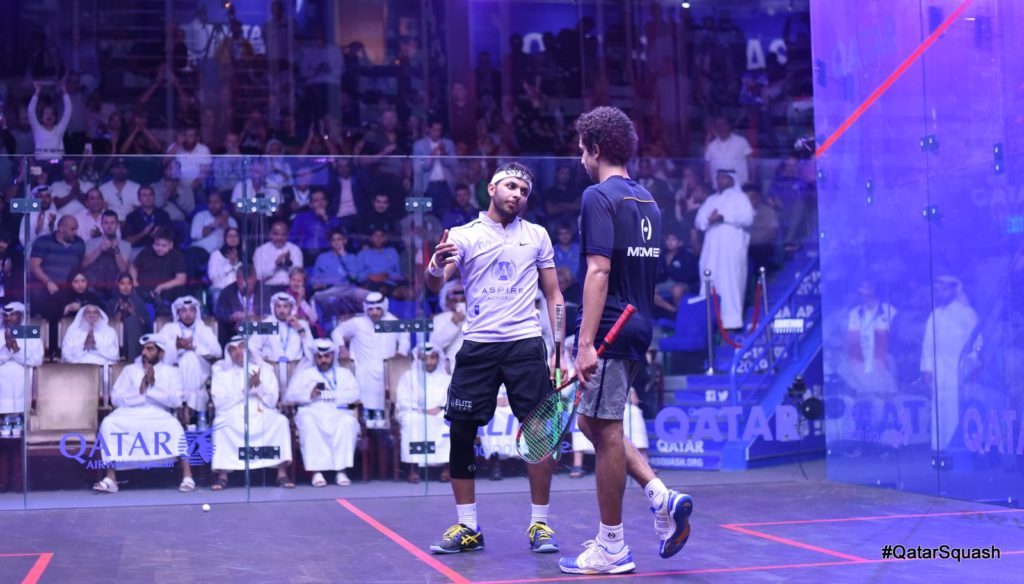 Geoff Hunt
I'm a little disappointed because I really thought he had enough to win it. The work he has been doing with Rodney Martin is truly paying off, he is a very special coach, and that's why I sent him to Rod. The fact that he's been sparring partnering with Mohamed ElShorbagy has helped him a lot, it's very hard to stay in the rallies with such a player and obviously it has helped his game.
This is a very special moment, as after 14 years working with Abdulla, I'm now finishing my coaching relationship with him. I'm walking away very happy, very proud of the level he has achieved. I'm moving on because he's now going to maximise his potential. I'm so proud of him, his squash is exceptional, and he is in the right patch to reach the top rankings.
I'm walking away, utterly satisfied, and our relationship goes beyond coach/players, we are good friends, and we are still going to be in contact for sure. That's what happens with coaches and athletes, you just keep the relationship going..
Abdulla
I cannot be that disappointed. I had my chances in the 4th, like in the US, I had the momentum, I was up 6/3 I think but then at 7/7, there was an interruption due to blood injury, and I lost the momentum.
He was so experienced, he warmed up the ball very well, it was bouncy and flying, and I just couldn't play as well after that than I was playing up to then.
But I guess I should be happy with my squash, I think I'm playing better squash, I just played 5 games with the world number 3, and let's be positive and think about the next event, Channel Vas…
Now, Geoff is the reason why I'm standing here today, I wouldn't be here without him, and I wouldn't be playing squash if it wasn't for him, that's a fact. Because when I was 16, 17, I 99% wanted to stop playing squash and go into football, but he told me that he believed in me, that I could go far in squash, and it's his belief, his support that made me keep playing squash.
So today is a very emotional day for me, the last time I'll have him in my corner, and one of the reasons I'm so sad about not getting to the quarters, is that I will not have him with me one more time.
But we are very good friends off court, and I'm going to keep seeing him, I'll go to Australia, he'll come to Qatar, or we will meet somewhere. We are very close, him, my dad… As far as I'm concerned, he is part of the family.
Tarek
From the very beginning when I entered the court, I realised there was a lot of support from the Egyptian crowd. I was very surprised by the cheering as I was a bit worried when the crowd is against you.
The Egyptian crowd evened it out and it made the atmosphere unbelievable. There was cheering after every point, whether it was for Abdulla or for me, so I think it was very entertaining for everyone. We Egpytians are so blessed to have such a crowd, I feel like home, there is no difference.
To be honest, I cannot believe I'm standing here doing this speech, I thought I was exiting the tournament, like last week. I had a bad loss in the first round, and I thought it was going to be the same pattern here. I was outplayed, I was even 6/3 in the 4th, we had the similar match in the US, and he played so well, he exceeding my expectations, just unbelievable squash.
I had no solutions at the time so I had to just really grind it out. I am really happy with the way I fought to come back and win, and I have to recover now and stop thinking about what happened and move forward and prepare for my match against Diego.
I spend my time trying to not think about the title. I just try and focus match after match not thinking about the end result. Just trying to win the next match..